The Merax Afuture three-piece hard-sided luggage set will give you durability, style, and ease of use all in one set. Whether you have decided to go away for a few days and want to take just a carry-on, or whether you have planned a longer trip and need to carry more of your items, then the Merax Afuture luggage set has got you covered. Featuring a stylish, modern design, you will feel happy with your choice of luggage when navigating through the airport terminal. Being hard sided means that your items will be better protected inside the case than they would in a soft-sided alternative. It comes with most of the standard features that you expect on luggage these days, with spinner wheels, telescopic handle, integrated lock, and cushioned side handles. Get the complete review of the Merax Afuture 3 piece luggage set in detail from every aspect:
Design
The Merax Afuture luggage set has been designed with the modern traveler in mind. The stylish design is very attractive, featuring horizontal stripes which portray the suitcase set as stylish, modern, and sleek. Each of the suitcases is equipped with four-spinner wheels and a telescopic handle, resulting in a much easier and more enjoyable experience when in use. As with all spinner wheels, they work amazingly on hard surfaces which are flat, however, if you take them onto uneven or carpeted surfaces you will soon find yourself in a bit of trouble. Mounted on the side of each of the suitcases is an integrated lock, allowing you to keep your valuables locked away and secured without the need to worry where you last put your suitcase lock.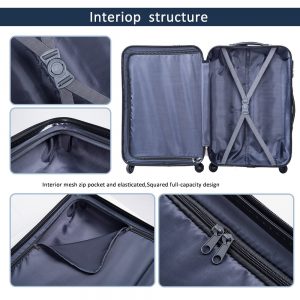 Storage
The smaller suitcase has been designed to be used as cabin luggage, if you are traveling with valuables or a laptop it would be best served in this suitcase. As with all hard-sided suitcases, you will not find exterior pockets, which means that you have to open up your suitcase if you need to get to any travel items or documents, this may be a hassle when you wish that your paperwork was easier to reach. Inside the suitcases you will find a zip-lined mesh pocket, allowing you to store loose items and those that you need quick access to. The mesh will keep your items separate from your clothes and keep your suitcase neat and tidy when in use. The other side of the 50/50 split features the main compartment for your clothes, it comes with an x-strap, keeping your clothing secure and in place throughout the journey.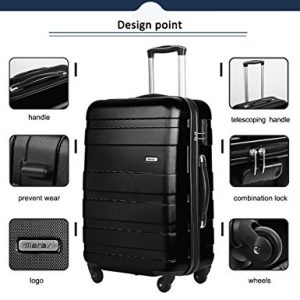 Features
The Merax Afuture luggage set features most of what you have come to expect in hard-sided luggage. With four spinner wheels allowing you to take any of the suitcases and not worry about it being too heavy for you to pull around. The telescopic handle, with the ergonomic grip, has your hands health in mind, you will not strain or injure your hand on those long walks through the airport. The integrated lock, however, is not TSA approved, you will have to either travel with it unlocked, risk damage caused by a TSA agent, or purchase a TSA-approved lock to attach to the zipper. The combination of polycarbonate and ABS ensure that the suitcases are lightweight and durable so that your items will not get damaged and your suitcase should last at least a few trips.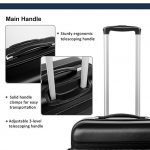 Weight
The carry-on weighs in at 5.7 lbs, which is rather lightweight for a carry-on, it is not the lightest carry-on you can find, as on the market today you will be able to see the newest ultra-lightweight carry on the market. Although, it is still classed as lightweight considering the heavier alternatives available. The medium weighs in at 7.4 lbs and the large at 9.4 lbs. Given that the construction is made from lightweight polycarbonate and ABS, the luggage set is lightweight and each of the bags can be easily lifted when empty with just one finger.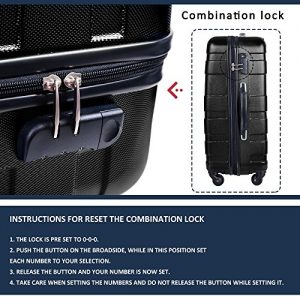 Durability
As the Merax Afuture luggage set is made from polycarbonate and ABS, it is designed to be both lightweight and durable. The protective film will help keep scratches at bay, allowing your suitcase set to look newer for longer. It has been noted by previous customer that the lock can become stuck and non functional, if this happens you may need to pry open your lock and forget about using it again.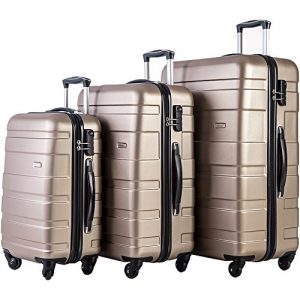 Style
The modern, sleek style will have on looking wondering why they decided to go for the boring suitcases when there are stylish ones on the market today. Featuring horizontal stripes and a metal logo, the suitcase set really does look the part. Available in a wide range of colors, if you want to be subtle you can opt for one of the more common colors, or you can express your style and character by opting for one of the more elaborate colors, and really show what you are about.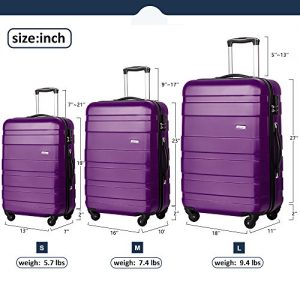 Size
The carry-on measures in at 21 x 13 x 7 inches, which is just under most of the modern airline carriers size requirements for cabin luggage. The medium measures at 25 x 16 x 10 inches and the large at 29 x 18 x 11 inches. This is including the wheels. Another plus is that when storing away your suitcases, they will fit inside one another, allowing you to store them in tighter spaces in your closet, garage or basement.
Warranty
The Merax Afuture luggage set comes with a one-year manufacturers warranty. This is a lot shorter than most of the manufacturers today, so if you decide that you want to use this luggage for the long term, then this may be an issue to you.
Good Luggage Set!
The Merax Afuture luggage set really does look the part, it has a stylish, modern, and sleek design. If you want people to be looking at your suitcase wishing it was theirs then you may want to choose this one. Although, it's worth noting is that the 1-year warranty is much shorter than many of the more reputable manufacturers, does this mean that the manufacturer isn't confident on it lifespan to be much longer than one year?
PROS
Stylish design
Available in many colors
Spinner wheels
Cabin bag is under the size requirements
CONS
Short 1-year warranty
Lock is not TSA approved
Not expandable
Author Rating:
Reviewer:
Originally posted:
Reviewed Item:
Merax Afuture 3 Piece Luggage Set 2018
Item Rating: