Goplus has offered its customers a three-piece rolling luggage set, each of the suitcases designed to meet your needs. Whether you want to take just a carry-on, or you would like to pack a few more items and go for one of the larger suitcases, you will have a sleek, stylish suitcase ready to travel with you. Made from polycarbonate and ABS, it is a durable suitcase set, each with four spinner wheels designed to go where you want it to go. The handle is telescopic and will extend for you to pull this suitcase around, meaning it is easier than ever to travel with a lot of items. Get the complete review of the Goplus Globalway three-piece luggage set in detail from every aspect:
Durability:
80 out of 100
Design
The Goplus Globalway luggage set has been designed with the modern traveler in mind, featuring a stylish and minimalist design, ensuring that you look the part. You are able to choose from many colors, both vivid and subtle, you will be sure to find one to suit your style. Each of the three suitcases comes with four multi-directional wheels and an ergonomic telescopic handle. These two features allow you to travel with any of the three bags with ease, no matter the size or weight. With just a push of the finger, your bags will be rolling, ready for you to direct them. On the side of each suitcase, you will find an integrated lock, allowing you to keep your valuables secure at all times. The lightweight polycarbonate and ABS combination will keep your suitcases stylish while saving on your weight allowance. You can pack more of what matters!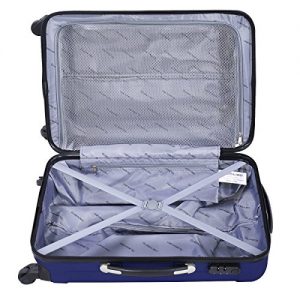 Storage
The carry-on has enough storage for you to pack your essentials or a couple of nights' worth of clothes. The medium bag gives you the extra storage that you may need if you are traveling for a few nights, up to a week. The large bag gives you, even more, storage for the longer trips or where you need to pack extra clothing or gifts. As with all hard-sided suitcases, they do not have exterior pockets, meaning that you have to open up the suitcase in order to get to any travel essentials that you have packed. Inside the suitcase, you will find a mesh zip lined pocket, which allows you to organize your belongings, and keep important travel items within easy reach. On the other side of the 50/50 split, you will find the main compartment for your clothing, with an x strap to hold your clothes in place and tidy when traveling. It is worth noting that these bags do not expand, and being hard sided they will not budge, so it is harder to squeeze the extra few bits in.
Features
The ergonomic handle that comes with each of the suitcases allows you to navigate the airport with very little stress or strain to your hand, along with the spinner wheels you will breeze through. As with all spinner wheels, when you come into contact with carpet or uneven surfaces it will be a lot more challenging, with more effort need to get them to move. It is worth noting that the integrated locks on these suitcases are not TSA approved, this means that if your bag is checked in and a TSA agent needs access, they will not be able to get in without any harm caused. That being said, if you want to attach a TSA-approved lock, you can do so by the zips. The combination of polycarbonate and ABS will ensure that the suitcases are not dirty for long, you are able to wipe them clean and keep them looking brand new.
Weight
The carry on weighs in at 6.2 lbs which is fairly lightweight for a hard-sided carry-on suitcase, enabling you to carry a few extra items into the hold, while keeping under the limit imposed by your airline carrier. The medium suitcase weighs in at 7.9 lbs and the large suitcases weighs in at 9.48 lbs. As they have been made of polycarbonate and ABS, this has allowed the weight to be kept relatively low, meaning you can pack more of your own items without having to worry about the weight limit.
Durability
Each of the suitcases have been made from polycarbonate and ABS, this has allowed the weight to stay low and keep durability high. The film on top will stop any scratches from damaging the sleek and stylish look, allowing you to wipe away any dirt that has gathered. It has been noted that the locks can become stuck, this has been a problem for a few previous customers, although if you are planning on using a TSA-approved lock, then the integrated locks will have little to no purpose. The handles, although some class as quality, have been known to be a little flimsy, although, for the price that you will pay for three hard-sided suitcases, you cannot be disappointed in the handle construction.
Style
The Goplus three-piece luggage set has been designed for those who have style at the front of their mind. It is a very minimalist style, which has vertical lines, displaying a sleek and stylish finish to the suitcases. It is available in a multitude of colors, whether you decide to opt for a shiny black set or a vivid pink. If you decide to go for one of the more vivid options it will not be difficult to spot it on the luggage carousel, or the airport lost and found as it will stand out from the crowd.
Size
The carry-on measures up at 16 x 10 x 23 inches, which can be a stretch for a lot of the airline carriers these days. You will want to check with your airline carrier before attempting to take the carry-on into the cabin with you, as you may be told to check it and incur additional charges. The medium suitcase measures in at 18 x 11 x 27 inches and the large at 21 x 12 x 31 inches. The suitcases will fit inside one another when storing away, taking up less space in your garage, closet or basement.
Warranty
The suitcase set comes with a manufacturer's warranty where they state if you are not 100% happy then you can return for a refund. There is not an abundance of information available with regards to the warranty, so I would be a little hesitant to believe all the hype surrounding it. Although for the price you are paying for three hard-sided suitcases, you cannot expect them to last too long.
Great Deal!
If you are looking for a luggage set to move home, go on a couple of trips and generally just use as and when you need to, then this may be the right set for you. It is very low cost, available at a popular online retailer for less than $100. If you are a seasoned traveler, who will be using their luggage sets for many years to come, then you may want to invest.
PROS
Array of colors
Lightweight
Stylish
Spinner wheels
Ergonomic handle
CONS
Lock not TSA approved
Warranty information not available
Non-expandable
Author Rating:
Reviewer:
Originally posted:
Reviewed Item:
Goplus Globalway 3 Piece Luggage Set 2018
Item Rating: