The Rockland Luggage 2-piece expandable set is a fun and fashionable carry-on set, including a tote bag for your essential items and an upright bag designed for your clothing. Available in many different colors and styles, you will be able to show off your own personal style with matching luggage. Made from polyester, one of the lightest and cheapest materials available for soft-sided luggage ensures this carry-on set lightweight and affordable. If you need just a little bit more space than just a carry-on, this set will give you that extra bit without having to check in any bags. As noticed, when the telescopic handle is extended, the tote bag will slide over the telescopic handle, meaning you can either use the over-the-shoulder strap or pull it along with your suitcase. Now your family carry-on experience is even easier, as you will be confident that even your child will be enthusiastic about carrying their own fun and fashionable luggage. Get the complete rockland 2 piece luggage set reviews in detail from every aspect:
Durability:
75 out of 100
Design
The Rockland 2 piece luggage set has been designed with fun and fashion in mind, offering many different colors and designs, you will be sure that your child can find one that they love. On the front of the upright suitcase, two zip-lined pockets allow easy access to any items you need. The tote bag comes with a side pocket, keeping your luggage organized during your flight. It has an attachable over the shoulder strap, allowing you to decide whether you want to carry it by the handles or the padded strap.
Storage
The tote bag allows you extra storage when you take just carry-on, giving you the ability to take a few extra items. Although not big enough to pack your laptop, if you have a notepad or tablet, it will fit in no problem. Your children will now be able to take their own in-flight entertainment, without you having to bear the brunt of the weight. The carry-on upright suitcase comes with two front zip-lined pockets and three mesh-lined internal pockets, you will have ample storage to keep your items divided. The main section includes two adjustable straps to keep your clothes in place throughout the journey.
Features
The Rockland 2 piece luggage set comes with some handy features. With the upright carry-on having inline skate wheels, be aware though as these are the older style of wheels for a suitcase, you will not have the maneuverability or stability of spinner wheels when taking corners and traversing the airport, meaning it is much more likely to fall over. The upright is expandable, allowing you to take extra clothing and items. Although all airlines have size requirements, check with your airline before packing in those extra few bits and expanding the suitcase, as it may result in you having to check it. The tote bag comes with a padded shoulder strap, allowing you to comfortably carry it.
Weight

The tote bag weighs in at 1 lb, it is very light, although understandable for its size and capacity. The upright carry-on weighs in at 6 lbs, which is not as lightweight as the ultra-light alternatives, so if you are looking at making the most of your carry-on weight allowance, this rockland 2 piece luggage set may hinder your ability to pack those extra few things.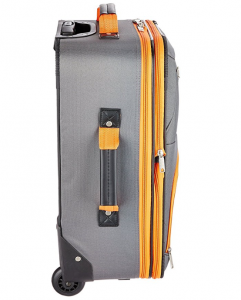 Durability
Made from polyester fabric, Rockland 2 piece luggage set is not the most durable of soft-sided luggage fabrics out there. In this sense, do not expect it to last a long time, or sustain the same amount of stress that a higher density polyester or hard-sided suitcase would. As with the polyester fabric, it is of lower density, therefore it will mark, scratch and even tear easier, especially when strained or overpacked. It is worth noting that the stress points have been reinforced for additional durability. The zip on the tote bag has been known to get stuck when overpacking, which can cause a hindrance and will probably reduce the lifespan.
Style
Available in a multitude of colors and styles, there will be a style and color that suits your own personal taste. Children will love the fact that they have chosen their own style and color, ensuring that they will be happy to carry the tote bag and pull the carry-on with little to no complaining, giving you an easier time at the airport.
Size
The rockland tote bag measure up at 14.5 x 5 x 11.5 inches, meaning there should be enough space for you to pack books, pencils, crayons and anything else you wish to keep you entertained on the flight. The upright carry-on measures in at 19 x 13 x 7.5 inches, giving you a bit of extra room to allow of overpacking and the suitcase expanding. It is deceptively spacious inside, allowing more than you would expect to be packed inside its small exterior.
Warranty
A 3-year limited warranty is included with this Rockland 2 piece luggage set. It is to be noted that the warranty is not of the same length as other brands, although at the price it is at, if it lasts for three years surely it is money well spent.
Short-term good investment!
The Rockland 2 piece luggage set is great for those who don't want to invest a lot of money into their travel luggage. Available at a low price for low-end luggage, it is a short-term investment that will not break the bank.
PROS
Many colors and styles
Carry-on set
Child-friendly
Expandable
Low price
CONS
Easy to topple over
Fixed wheels
Short 3-year warranty
Cheapest polyester material
Locks included are very poor quality
Author Rating:
Reviewer:
Originally posted:
Reviewed Item:
Item Rating: