From one of the world's leading luggage brands, Samsonite, comes their wheeled underseater small cabin bag. Whether you are looking to use a bag for personal or professional reasons, this bag is ready to support you in whatever your journey is. It has a telescopic handle, allowing you to roll the suitcase, or if you would like to carry it like a tote bag, the cushioned handles will allow you to with ease. A combination of nylon and polyester fabric ensures that this bag is strong and durable while coming in at a budget-friendly price. If your clothes are wet, for any reason, the internal Wetpack will ensure that the rest of your clothes stay dry throughout your journey. Get the complete Samsonite Wheeled Underseater Small review in detail from every aspect:
Durability:
95 out of 100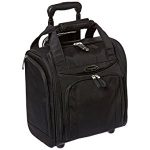 Design
The Samsonite Wheeled Underseater Small bag has been designed with the modern day traveler in mind, with some of the most up-to-date features on an under-seat bag. The Samsonite bag, as expected, really does look the part, it is stylish, professional, and sleek. You will be happy with how this bag looks and performs, all while it exceeds your expectations. The telescopic handle, with an ergonomic grip, and inline skate wheels, will allow you to pull the suitcase with little effort or strain on your hand. The bag has multiple exterior pockets, allowing you to organize your easy access items for when you are on the go. Once inside, you will find multiple storage compartments and the Wetpack, keeping your clothes organized, separating wet items, and spill-ables from your clothes. On the side of the bag, you will find a holder for your flask or water bottle, just like the Travelon Wheeled Underseat Carry-On.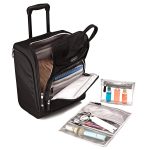 Storage
The Samsonite under seater bag has a spacious main compartment, allowing you to pack enough items to cover a night or two away from home. The sections inside will keep your items organized, making sure that none of your clothes become damaged by wet clothes, or any fluid. On the exterior of the bag, there are two side pockets and one front pocket, allowing you to effectively organize your essential travel items. Inside you will find a toiletry bag, that you will be able to hang up when in use, allowing you to take the basic toiletries or even enough for your daily routine, and still be organized.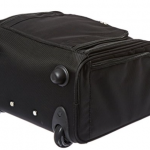 Features
The Samsonite Wheeled Underseater Small bag comes with a lot of the features that you would expect on a seasoned travel bag. The inline skate wheels will allow you to effectively navigate the airport, with the telescopic handle and ergonomic grip making it easier to pull the suitcase, no matter what the weight is inside. A side water bottle holder will ensure that you stay properly hydrated throughout your journey, with easy access to a water bottle, or flask, which is otherwise hard to pack and find in a crowded case. The multiple exterior pockets mean it will be easy to stay organized, with all your essential travel items within easy reach. No longer will you need to search through your main compartment to find that book you wanted to read on the plane. The internal Wetpack pockets ensure that your clean clothing stays dry, allowing you to store your wet swimwear with no worry that it will make the rest of your clothes damp. This suitcase has, even more, features than the already full-featured LUCAS Wheeled Underseat Cabin Bag.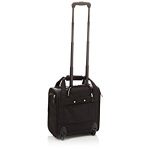 Weight
The Samsonite Wheeled Underseater Small bag weighs in at 6 lb 9 oz. Which is one of the heavier under seat bags that I have seen, which is not surprising given the number of features that this bag has. If you are conscious about the weight, you may want to opt for a lighter bag, although for a lot of the domestic flights, and the number of items you will pack, the weight should not be an issue. In comparison to the Steve Madden Luggage Wheeled Under Seat Bag, which weighs in at 6 lb, an extra few ounces for the added features is not too heavy. If you really wanted to, you would be able to remove some of the accessories found inside and reduce the weight that way.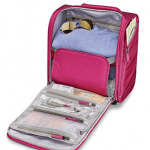 Durability
Samsonite is well known all over the world for luggage, and the only way they have been able to achieve this is due to providing great quality baggage at an affordable price. The Samsonite Wheeled Underseater Small bag is like the others, it is a strong, durable bag, designed to last. Made from a blend of polyester and nylon, the bag is lightweight and durable. The wheels roll smoothly and silently, allowing you to breeze through the airport without a care in the world.
Style
The Samsonite Wheeled Underseater Small bag really does look the part, it is stylish, sleek, and very professional looking. Available in only three colors, no matter which one you go for, it will still look stylish. The classic black looks best for professional use, and for those of you who like a personal travel companion to be subtle. If you want your travel bag to be more flamboyant, there is the option to go for either pink or purple, neither of which has a glossy finish, they are more pastel colors. Whichever color you choose, the bag, zips, and tag will all be color coded.
Size
The Samsonite wheeled under-seater bag measures in at 13 x 13 x 6.5 inches, which is relatively small compared to other bags on the market today. Do not let that fool you, as you will have ample space to pack all your travel essentials. Due to its size, it will fit easily under the seat in front of you, you may even be able to take it on as personal luggage, allowing you to take a second cabin bag on board. Check with your airline carrier as to whether this bag would be classed as personal, or cabin luggage before going to the airport. It is worth noting that it is not as big as some other under seat bags out there, although you will have room for your feet, and another bag if you wanted. Considering the size of the suitcase, you could be forgiven if you thought the weight was a little high.
Warranty
The Samsonite wheeled underseater small comes with a 3-year manufacturer's warranty, this does not cover excessive use, wear and tear, and mishandling. It only covers defects in the materials or manufacturing process. It is the most common warranty you will find with luggage, so it is no surprise to see Samsonite support their bag with a 3-year warranty. For a budget-friendly price, this is a great addition.
This item was ranked #2 in the list:
Whether you are going away for one or two nights, or a professional needing to carry their work while traveling, an under the seat bag is a perfect travel ...
READ MORE +
Great Brandname Bag!
The Samsonite Wheeled Underseater Small is a great bag for those who want the confidence of a worldwide brand who has been making travel luggage for many years. It comes in at a very budget-friendly price, along with a three-year warranty. No matter if you are planning on using this bag for business or pleasure, it will fit right in and do you proud.
PROS
Price
Durable
Comes with accessories
Many pockets
Author Rating:
Reviewer:
Originally posted:
Reviewed Item:
Samsonite Wheeled Underseater Small
Item Rating: