The Ciao Convertible luggage is a very unique proposition. It is a 13.5-inch suitcase that will slide under the seat in front of you, that can expand up to 22 inches, which could possibly be classed as cabin luggage, and fit in the overhead lockers. If you are looking for approximately 50% more packing capacity, the expanded version will suit your needs, with the ability to collapse back to an under-the-seat carry-on when needing to. This is a great idea, as no longer will you need to purchase a bag for both of these sizes when you purchase this and have the best of both worlds. You can use this for the overnight stay or business meeting, or expand it and use it for the weekend away. Get the complete Ciao Convertible Expandible Under Seat Carry-On Luggage review in detail from every aspect:
Durability:
95 out of 100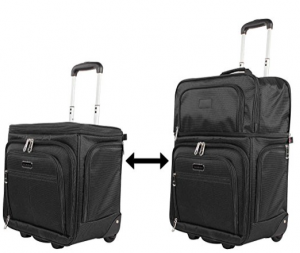 Design
The bag has been designed with functionality in mind, why have two bags, with two prices to pay, when you can purchase just one that will do the job of both of these bags. When at its standard size, this smart bag will fit under the seat in most aircraft. When expanded, it will fit in most airlines size requirements for cabin luggage. The Ciao Convertible Expandible Under Seat Carry-On has been constructed from a lightweight nylon material, meaning it is strong and durable, that will withstand the rigors of travel.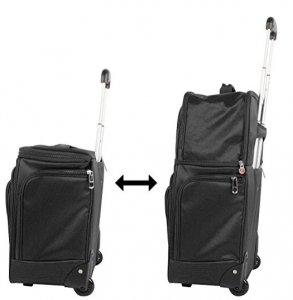 Storage
This is where the Ciao Convertible really does come to life, with the ability to expand to nearly an extra 50% packing capacity you will not be short on storage space. If you leave for your trip with it as an under-the-seat bag, you can rest assured that even if you purchase a load of souvenirs and a couple of presents for your loved ones, you will be able to expand it to the cabin luggage size and not have to worry about how all those purchases will get back home with you. On the outside of the bag, when at its compacted size, you will find one zip lined pocket, allowing you to store any travel essentials so that they are easily accessible. When expanded, you will find an extra exterior pocket at the top half of this case, giving you even more organized storage space. Inside the bag, you will find two storage compartments, one in the bottom which contains a padded sleeve for your laptop, and an x-strap to keep your clothes packed neatly. In the expanded section of the suitcase, you will find another compartment which will give you ample storage room.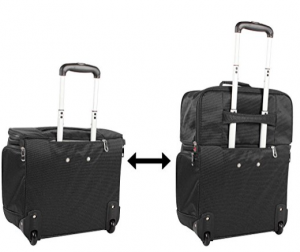 Features
The Ciao Convertible Expandible Under Seat Carry-On comes with most of the features that you have come to expect from this type of baggage. The main feature, and selling point really, is the convertible aspect. Allowing up to an extra 50% packing capacity, you will not run out of space. It does have the standard inline skate wheels, which actually work quite well on this suitcase, with not that many customer complaints. Although I dread to think of how much hard work you will need to put in if this case is expanded and packed with heavy items inside. As you will have to drag this suitcase behind you, on inline skate wheels, which is never a fun thing to do. It does also come with a telescopic handle, although without a padded grip, it may begin to take its toll on your hands.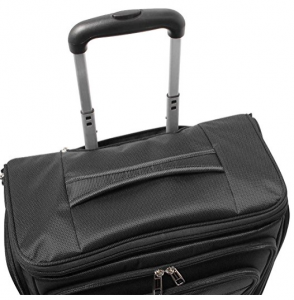 Weight
The Ciao Convertible Expandible Under Seat Carry-On weighs in at a lightweight 5.4 lbs especially given the fact that it can expand to a 22-inch suitcase. Which means it is lighter than the Nicole Miller Taylor Collection 15″ Under Seat Bag while having a lot higher storage capacity. Although it is not as light as the Steve Madden Luggage Wheeled Suitcase Under Seat Bag, which weighs in at 5 lbs. If you are looking for a suitcase that serves two purposes, is able to expand, and looks the part, then you do have to accept the increase in weight that comes with this.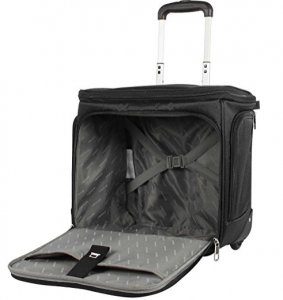 Durability
The under the seat bag is made from a very durable nylon fabric, this is superior to the polyester used in other budget-friendly baggage. This means that your bag will not easily rip, tear, or mark, giving you the peace of mind that it will stand up to the day-to-day life of an under-the-seat bag. As with a lot of bags in the budget range, the telescopic handle does not seem as sturdy as expensive options made from aircraft grade aluminum. That being said, for the price, you cannot expect Ciao to use all top-range materials, as the budget will be blown wide open.
Style
The innovative, expandable suitcase does really look the part. It is stylish while staying professional. Coming in either black or blue, whichever color you opt for, it will fit with whatever style you are going for. It does not have the same bold designs that the Nicole Miller Taylor Collection 15″ Under Seat Bag has, but it does showcase the professional look that you need. It does look rather similar in style to the slightly more expensive option from Ciao, the Ciao Luggage Carry On Suitcase Wheeled Airplane Weekender Under the Seat Bag, coming in black and blue also, don't get mixed up between the two and purchase the one that doesn't expand if you need it to!
Size
The Ciao Convertible Expandible Under Seat Carry-On measures in at 13.5 x 15 x 8 inches when at its compacted size, allowing it to easily fit under the seat in front of you. If you are on one of the flights where the media box takes up part of your under-seat storage, you may find it a little difficult for this to fit in completely, at which point it may have to then go in the overhead locker, which defeats the point of an under-the-seat bag. At the expanded size, it measures in at 22 x 15 x 8 inches, which will fit as a cabin bag in most major airline carriers, although if expanded, check with your airline carrier to avoid any disappointment at the airport.
Warranty
The suitcase does come with a manufacturer's 5-year warranty, which gives you the added peace of mind that it should be free from manufacturing and material defects for the full five years. Given the very budget-friendly price this bag is on the market at, it is a great feature.
This item was ranked #8 in the list:
Whether you are going away for one or two nights, or a professional needing to carry their work while traveling, an under the seat bag is a perfect travel ...
READ MORE +
Convertible Bag!
The bag in an innovation in itself. Being able to convert from an under-the-seat bag to a cabin bag has made traveling much easier and cheaper, now that you only have to purchase one bag for both purposes. As with all multipurpose items, it probably isn't the best performer for either job, but it does do them enough justice to say that this is a useful little bag.
PROS
5-year warranty
Convertible to 22-inch cabin luggage
Rolls easily for inline skate wheels
Stylish
CONS
Can be expanded over regulation sizes
Not as lightweight as other under the seat bags
Author Rating:
Reviewer:
Originally posted:
Reviewed Item:
Ciao Convertible Expandible Under Seat Carry-On Luggage
Item Rating: