The Aerolite carry-on is a great additional carry-on for your next flight. It will fit easily under the seat in front of you, leaving you able to access any items stored inside during the flight without having to get up out of your seat. The bag allows you to travel with ease, taking the cabin bag along with you, it comes with a telescopic handle and inline skate wheels, so no longer do you have to carry your under the seat bag on your shoulder. Finally, your shoulder can be pain-free! It has a back strap which allows you to slide it over your main cabin bag, or even your checked-in luggage. Even though it is two bags that you will have, it does not mean two separate items you will need to pull along, as it will fit on top of your other luggage, making just the one complete piece of luggage to travel with. Get the complete Aerolite Carry On Under Seat Wheeled Trolley Luggage Bag review in detail from every aspect:
Durability:
85 out of 100
Design
The Aerolite luggage bag has been designed with ease and comfort in mind. It features a retractable handle, which offers the ability to pull this suitcase along with its inline skate wheels when needed. The back strap allows you to slide this bag over the handle of other luggage making traveling with two bags much easier. Designed with multiple pockets to allow the user greater control over the organization of their bag, providing easy access to many items that you may need during your trip. The many exterior zippers will give you access to different sections of the main compartment, making it much easier to get to the items that you want quickly. The Aerolite luggage bag has been made from a quilted fabric, giving it a stylish finish while looking professional.
Storage
There are many exterior pockets on this under seat cabin bag, each giving you the ability to store money, magazines, or travel documents with ease and great organization. The exterior zippers give access to the luggage main compartment at different points, allowing you to pack the main compartment efficiently. If there is an item at the side of your main compartment you want to easily get to, you can do with the many zippers. Unlike the LUCAS Wheeled Underseat Cabin Bag, Aerolite luggage bag does not come with any additional storage accessories like an exterior passport holder, or toiletry bag. It does come with enough space to fit shoes, clothes, travel essential, and even work-related items if needed.
Features
The Aerolite Carry On Under Seat Wheeled Trolley Luggage Bag comes with a lot of the features that the other leading under seat cabin luggage has. With inline skate wheels, and a lockable telescopic handle, allows you to transport your luggage with ease. The multiple interior and exterior pockets give you the ability to organize your luggage with ease, ensuring that all important documents and travel essentials are easily accessible. The back-strap will give you the ability to slide this bag on your bigger suitcase, making it easier to transport both bags around the airport and home.
Weight
The Aerolite Carry On Under Seat Wheeled Trolley Luggage weighs in at 4.4 lbs, which is very light. This is due to the construction and use of lightweight materials, although with these materials you will expect durability to suffer slightly. The Aerolite under seat bag has a great balance between weight and durability, ensuring that it is light and easy to lift into the trunk of a car, or up and down stairs, all while being strong and durable. If you want the extra features and durability, you can go for a heavier suitcase like the Ciao Convertible Expandible Under Seat Carry-On Luggage, to get the durability and additional storage space, however, it is around 1 lb heavier.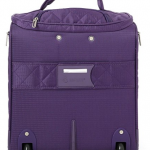 Durability
The Aerolite luggage is made from a stylish yet durable quilted fabric, not as durable as polyester or nylon, however, for the amount of storage inside, it should easily live up to the tasks that you need. The main issue that previous customers have found is that the handle is flimsy and not as strong as needed, with some even reporting that it broke only after a couple of uses. If you are not putting a lot of weight and strain on the handle, it should work as expected. If you want a case which will carry more weight and last a long time, opt for the Samsonite Wheeled Underseater Small case, which has glowing reviews on the durability and construction of their case.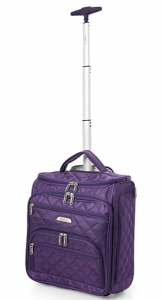 Style
The Aerolite luggage bag is stylish and professional looking, coming in four colors, black, blue, red, and purple. You will be sure to find one that you like and will suit your style. It does not come with the same bold prints and designs as some of the more fashionable suitcases such as the Steve Madden Luggage Wheeled Under Seat Bag. It is plainer and subtler design.
Size
The Aerolite Carry On Under Seat Wheeled Trolley Luggage measures in at 16.5 x 13.8 x 7.8 inches. This will allow it to easily fit under the seat in front of you while offering a huge 28 L of storage capacity. If you do overpack the side pockets you may have difficulty in being able to slide it under the seat in front, so keep this in mind. It would be best to check your airline's size restrictions before going to the airport, as you may be able to take this as personal luggage, although if it is classed as too big, it may then become your cabin luggage, so be careful.
Warranty
The Aerolite luggage comes with a long manufacturer's warranty of ten years. This covers defects in the materials and manufacturing process. It does not cover wear and tear, excessive use, or mishandling by the airport staff. If the handle does come out or fail when using this bag, if you overpacked it, or added too much weight, be careful as this could be classed as wear and tear, or even misuse.
This item was ranked #4 in the list:
Whether you are going away for one or two nights, or a professional needing to carry their work while traveling, an under the seat bag is a perfect travel ...
READ MORE +
Excellent Piece with Warranty!
The Aerolite Carry On Under Seat Wheeled Trolley Luggage is a great under the seat cabin bag, with a huge warranty. It is great to see a brand like Aerolite really support their manufacturing process and believe in their own products. Even though there have been instances of parts failing, the overall construction of the case is good, with many customers supporting and loving their purchase.
PROS
Lightweight
Stylish design
Big capacity
Many pockets
Long 10-year warranty
CONS
No extra accessories
Handle known to fail
Can be overpacked
Author Rating:
Reviewer:
Originally posted:
Reviewed Item:
Aerolite Carry On Under Seat Wheeled Trolley Luggage Bag
Item Rating: