The 16 inch Rolling Trolley Shoulder Carry-on Bag by EZ Travel, is compact, spacious, and sturdy. Ready to travel with you on any type of trip that you decide to go on. It is a soft-sided case, designed to be lightweight, strong and durable. It is ideal for short business trips, a couple of nights away from home, being able to store just about enough to make your trip comfortable. Featuring both a over the shoulder carry strap, a top cushioned handle, and a telescopic handle, it will be a breeze to travel with, especially with all these carry options. Short overnight trips away have just got easier with this manoeuvrable rolling trolley case. Get the complete rolling bag reviews for 16″ Rolling Trolley Shoulder Carryon Bag w/ EZ Travel Luggage Tag in detail from every aspect: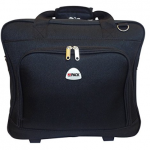 Design
The EZ Travel Luggage has been designed with the short business traveler in mind. The suitcase will easily slide under the seat in front of you when you are on board the plane, ensuring that your essential items are kept on hand and easy to reach throughout your trip. It will easily hold a laptop, amongst other important documents, so if you need to work while waiting to board the aircraft, or even when you're in the air. You're work documents and laptop will be there accompanying you, making travel and work harmonious. The 16 inch Rolling Trolley Bag EZ Travel Luggage is a soft-sided small suitcase with premium inline wheels, a telescopic handle which locks into place, and a sturdy top handle with detachable shoulder strap.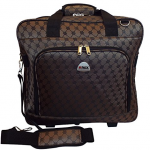 Storage
This small suitcase made by EZ Travel Luggage does exactly as it says, it is a small carry-on bag, which has enough space to make your travel easy. If you are looking at working on the go, or even just transporting your work documents for one office to the other, this suitcase is spacious enough to carry all your work. You will be able to fit laptops of any size in this case, if you have more than one, don't worry as it can easily handle two laptops without any stress or strain on the case. Depending on how many clothes you want to take, or how heavy you pack, you may even be able to store enough clothes for 3-4 nights away. On the outside you will find a zippered pocket, allowing you easy access to any travel documents or items needed at a moment's notice. Inside there is one main compartment, although with the exterior padded pocket, you can easily organize your work or belongings, and travel in the peace of mind that your bag is organized.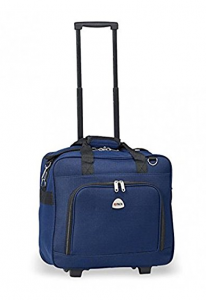 Features
The 16 inch Rolling Trolley carry-on by EZ Travel Luggage has a few of the features that you would like on an under the seat bag. It does have inline wheels, not the spinner wheels. This could be an issue if you pack it heavy, as all the weight will be on your arms, which can cause aches and pains if you are not that capable of pulling around a heavy bag. The detachable shoulder strap is a great addition, so whether you want to pull the luggage behind you, or if you want it a little closer, you can carry it over the shoulder. The telescopic handle will lock into place, ensuring that it is there to support you, as well as retracting into the body of the bag when not in use, making carrying the suitcase over the shoulder easier. One thing worth noting is that the zipper does not open all the way around the bag, so it may be a pain when you are packing it.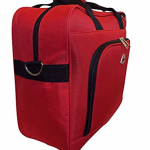 Weight
The 16″ Rolling Trolley Shoulder Carryon Bag w/ EZ Travel Luggage Tag weighs in at 4.5 lbs. This may be an issue if you plan on carrying a lot of heavy items, like folders and workbooks. Although it is a fairly lightweight under the seat carry-on, you need to make sure that once it's packed it will comply with the restrictions put in place by your airline carrier. You do not want to be at the airport, ready to take that important flight, and be told that your case will have to checked in, losing your ability to work while on the go. If you care about having a lot of features, it will increase the weight, and you could opt for the Samsonite Wheeled Underseater Small bag, which weighs in at 6 lb 9 oz.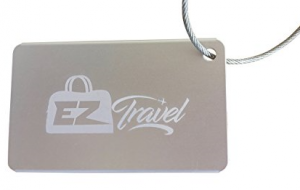 Durability
A lot has been said about small, budget friendly suitcases. This rolling bag will keep your items safe and secure while serving as your travel companion. The wheels although inline, are sturdy and strong, allowing you to go over bumps in the road, cracks, and other general annoyances. The construction of the rolling bag has been done well, the case does not seem to be damaged when placed under stress from overpacking, or heavy items. Although, if you do fill it up to the top with heavy items, expect it not to work too well. There are instances of it constantly tipping over, which may be an issue if you have any valuable or breakables, such as a laptop inside.
Style
The style of the suitcase is professional, although it does look a little cheap, it will not win awards for its style. The carry-on comes in a variety of colors, and if you are looking for something a little more wild, it has some rather extravagant prints. Allowing you to showcase your style in your travel luggage. With all the colors and styles, the zips and details are always in black, which keeps a rather professional look about it.
Size
The 16 inch EZ Travel Luggage Rolling Bag measures in at 16 x 15.5 x 7.5 inches, which means it will easily slide under the seat in front of you. In comparison to the Nicole Miller Taylor Collection 15″ Under Seat Bag, it is slightly slimmer, meaning it will not fit as much inside. It will be an easy travel companion for those who do not want the stress of going into the overhead lockers and attempting to get items out of the main compartment when the aircraft is full. It will easily fit inside the trunk of a car, under your office desk, or under your table.
Warranty
One of the downsides is that EZ Travel Luggage has not backed their bag, it does not come with any warranty. So if it does fail, break, or rip, you will be left with purchasing a new bag. It is never great when a manufacturer will not offer at least a one year warranty, as it does not install confidence in the buyer.
Sturdy Compact Bag!
The 16" Rolling Trolley Shoulder Carryon Bag w/ EZ Travel Luggage Tag is a strong, stable, and professional looking small bag. If you want to carry documents, a laptop, or clothes for an overnight stay then it will do its job. Do not expect it to last a great deal of time, as no warranty by the manufacturer does not instill confidence in the user.
PROS
Strong
Shoulder strap
Wheels are sturdy
CONS
Heavy
No warranty
Zip does not go all the way around
Author Rating:
Originally posted:
Reviewed Item:
16" Rolling Trolley Shoulder Carryon Bag w/ EZ Travel Luggage Tag
Item Rating: