The Delsey Luggage Helium Aero International Carry-On has been designed to make packing and traveling more enjoyable. The hard-sided luggage is sleek, stylish and made by the brand Delsey. It is suitable for all types of travel, whether you need a suitcase for personal use, it will work wonders, or even if you need it for professional use it will work perfectly as the design and style of the suitcase look professional and will not let you down. This suitcase comes packed with features that the modern day traveler has come to expect. With an easy access front compartment with an integrated padded sleeve, ideal to store your laptop safely. Get the complete Delsey Luggage Helium Aero International Carry On Expandable Spinner Trolley review in detail from every aspect:
Durability:
80 out of 100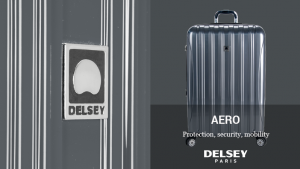 Design
The Delsey Luggage Helium Aero International Carry On has been designed to be strong, durable while keeping weight to a minimum. Made from 100% polycarbonate it is strong and durable. It is not as durable and crack-resistant as ABS, however, in order to keep costs low, polycarbonate is the material of choice. The easy access front compartment is a game changer is hard-sided luggage, no longer do you have to open the main compartment of your case in order to get any documents or travel essentials. The suitcase comes with one of many stylish, glossy designs, keeping it looking modern and professional. Delsey has identified the problem of unstable luggage and has designed this suitcase to tackle that issue. It will roll effortlessly with the telescopic handle and the four multi-directional wheels while staying stable and reliable when in use.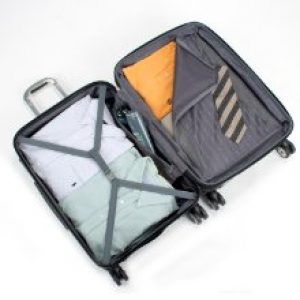 Storage
The carry-on has the main compartment and the easy access front compartment. The front compartment is able to hold your laptop and protect it with the integrated padded sleeve, this is ideal for the modern-day traveler, as more and more people are taking their laptops with them when traveling, meaning Delsey has seen an ever emerging gap in the market. The main compartment of the Helium Aero International Carry-On contains dual tie-down straps to keep your clothing in place, as well as many zippered pockets and a zip around divider. You will have no reason not to keep your clothes and items organized while traveling, as the Delsey Aero International Carry-On does the hard work for you.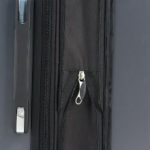 Features
The Delsey Luggage Helium Aero International Carry On has all the features you have come to want and need on a modern-day travel bag. It has four spinner wheels, allowing you to easily glide through airports and on any hard even surface. It does, like all spinner wheels, get stuck when it comes into contact with carpet or uneven grounds, leaving you to haul it yourself and use considerably more energy. The side-mounted TSA lock will give you the peace of mind that your luggage is safe and secure, if for any reason an agent needs access to your bag and it is not with you, then no damage will be done to the suitcase. The suitcase is expandable, allowing you an extra couple of inches of packing capacity.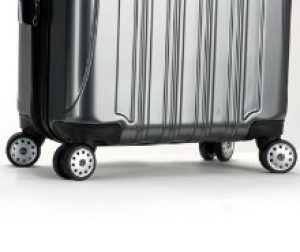 Weight
The Delsey Luggage Helium Aero International Carry On weighs in at a massive 8 lbs. This is the same weight as the SwissGear Sion 21 inch, which also weighs in at 8 lbs. For a hard-sided suitcase it is not too extreme, although if you are conscious about the weight restrictions that airline carriers put in place then this may put you off slightly. However, it is understandable that the weight is made up of the padding, two compartments, the spinner wheels, and the side-mounted TSA lock.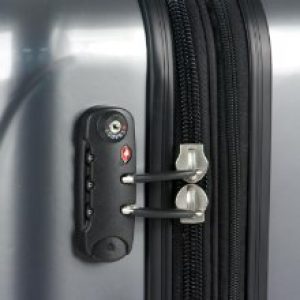 Durability
The suitcase has been made with durability in mind, being composed of 100% polycarbonate it is a strong and durable suitcase. It is not as shock resistant as the Kenneth Cole Reaction Out of Bounds 20 inch, which has been made of ABS. So it will not bend and flex as well as the Kenneth Cole suitcase. However, the Delsey Luggage Helium Aero International Carry On has been extensively tested and coming with a 10 year worldwide limited warranty, you have the peace of mind that the manufacturer is backing their suitcase to not give in when you need it the most. The suitcase comes with a glossy finish, however, it has been known to scratch easily, taking away from the stylish finish, and making you wish you didn't purchase a bag that shows marks like this one.
Style
The style of the suitcase is professional, sleek and stylish. The case is the complete opposite of the Rockland 20 Inch Polycarbonate Carry On which has been designed to be fun and stylish. The Delsey Aero luggage is modern, yet professional. Available in seven different colors, you will be able to find one to suit your style. All come with the glossy finish, they will be easy to spot when you are in a rush and searching the back of your closet to find the suitcase for that last minute packing. The suitcase has vertical stripes which will help hide any scuffs or marks, although they will still be prominent.
Size
The suitcase measures at 19 x 13 x 9.5 inches, including the wheels and handles. This is the normal size for an international carry-on as the restrictions are tighter when you travel abroad as opposed to domestically. If you are looking at a suitcase just for domestic travel, you may want to consider a 21-inch suitcase such as the SwissGear Sion 21 inch, in order to fit more of your items in and still be within the size requirements set out by the airline carriers.
Warranty
The Delsey Luggage Helium Aero International Carry On comes with a Worldwide Limited 10 Year Warranty. The warranty will cover defects in the manufacturing process or the materials. It does not cover any wear and tear, leaving you to foot the bill. This type of warranty is the most common within the luggage market, and with it covering a massive 10 years, you should be confident in purchasing this suitcase.
This item was ranked #7 in the list:
In the world of travel today, you will find many options for you to pick from when deciding on your trusted travel companion. Whether you have some ideas on ...
READ MORE +
Great Carry-On!
The Delsey Luggage Helium Aero International Carry On is a great little suitcase, packed with tons of features, it is well worth the asking price. If you are looking for a suitcase that will protect your laptop, lock away, and give you peace of mind then look no further as the Paris-based manufacturer Delsey has produced one of the more modern bags you will find on the market today.
PROS
Professional look
International carry-on size
Expandable
10-year worldwide warranty
TSA-approved lock
Easy access front pocket
Author Rating:
Reviewer:
Originally posted:
Reviewed Item:
Delsey Luggage Helium Aero International Carry On Expandable Spinner Trolley
Item Rating: