Hailing from New York, Nicole Miller has designed a bag suitable for the streets of the Big Apple, satisfying fashion-conscious travelers in the meantime. The designer studied both classic design and haute couture at a Parisian school, and it really does shine through in the classic, stylish designs on the Taylor Collection. Nicole Miller has built her reputation on bold prints, and they are being used once again, playing to the designer strength in this collection. The Nicole Miller Taylor Under Seat Bag is made from a cotton canvas material, ensuring that it is stylish and durable. Get the complete Nicole Miller luggage reviews for Nicole Miller Taylor Collection 15″ Under Seat Bag in detail from every aspect:
Durability:
95 out of 100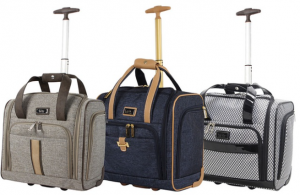 Design
The Nicole Miller Taylor Collection 15″ Under Seat Bag has been designed with the modern, business traveler in mind. The product of a fashion designer, you can see that it has been designed to fill the voids that Nicole Miller felt were in the under seat carry-on market. It comes with two inline wheels, which are rather common on under seat bags, although stable and strong, they will not roll as well as the spinner wheels found in other baggage. The telescopic handle will allow you to pull the suitcase on the inline wheels, although the weight of what you have packed in this stylish bag will be felt on your arm. With many exterior and interior pockets, it seems one of the things Nicole Miller was frustrated with, was the lack of organization in the baggage market. With this bag, you will be able to store all your items efficiently, while keeping it very organized for quick access.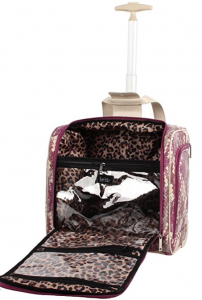 Storage
The Nicole Miller Taylor Collection 15″ Under Seat Bag does excel when it comes to the storage features on this bag. With not one or two, but five exterior pockets, all of the different sizes, allow you to effectively organize your travel items while keeping a lot of them easily accessible. There are two on the front, one on the back, and one on each side of the bag. The front zip for the bag opens up the entire bag, so you can easily pack your items inside, without having to squash things into corners without really knowing where they are. There are even pockets on the inside, which are made from clear plastic, where you can store items such as make-up without worrying they will damage any of your clothes or other items inside. You will be able to efficiently pack this bag with all your items while keeping them in order, neat and tidy. In comparison to the 16-inch EZ Travel Luggage, which has one exterior pocket, here you have too many pockets to know what to do with each one of them.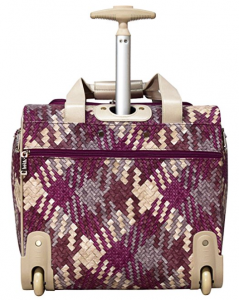 Features
This fashionable under the seat bag comes packed with features that you have come to expect from this type of luggage. The telescopic handle coupled with the inline wheels will allow you to pull the suitcase, albeit with a bit of effort needed on your part. They are not as good as spinner wheels, although, for the weight that you should be putting into this case, it should not be too much of a strain to pull around with you. The number of pockets really does set this apart from the competitors in today's market. It is packed full of pockets, the two on the side will carry items which you need quick access to, however, make sure they are not valuable or easily damaged as there is very little protection for these pockets. On the back, another pocket will keep your items organized, and three on the front to enable you to pack well. The dual top carry handles mean that it is easier and more comfortable to lift when needed, making the trip upstairs or lifting into a car trunk easily.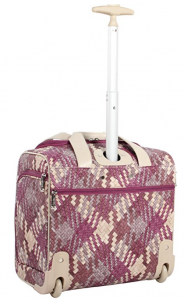 Weight
The Nicole Miller Taylor Collection 15″ Under Seat Bag weighs in at 5.2 lbs, which is slightly heavier than the 16-inch EZ Travel Luggage which weighs in at 4.5 lbs. That being said, you will be trading weight for style and the features that come with this under seat bag. The little bag is roomy and spacious, just be careful when you pack all your items inside, as it could go over the restrictions in place from your airline carrier.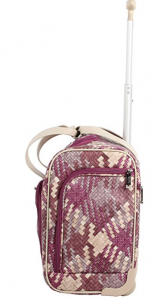 Durability
The bag has been designed to be stylish and pack a ton of pockets, although it does not really give in to durability. The main issue seems to stem from the inline wheels, with many customers reporting that they feel wobbly, loose and make a lot of noise. Although the zippers have been well made and will live up to you constantly opening and closing all those pockets. The handle has been noted to be notoriously difficult to push back down, with it becoming stuck, which may be an issue when you are trying to sit down quickly on the plane or are in the queue at airport security, you do not want the embarrassment of your bag not fitting into the scanner!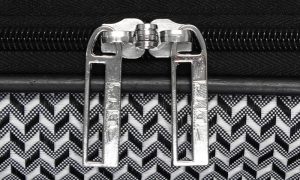 Style
What can I say? The style is what sets this bag apart from the rest of the market. Being designed specifically by an accomplished designer, the bold prints found on all of these suitcases will ensure that you fit in on the catwalk while attracting looks of approval at the airport. There are flamboyant, bold prints for those who are in the fashion industry, while the more professional, classic prints will fit in at the office meeting, or even in a classroom. You do not need to be a fashionista to be able to pull off one of these prints!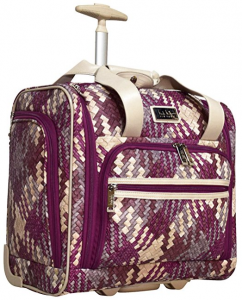 Size
The Nicole Miller Taylor Collection 15″ Under Seat Bag measures at 15.5 x 15.3 x 9.3 inches, which means it will slide effortlessly under the seat in front of you. It is a great size considering how many items you can fit inside. Just be careful as it is classed as slightly too big to be classed as a personal carry-on item, so it may not go along with your cabin bag on the airlines that allow you both a cabin bag and a personal item, you may have to class it as your cabin bag.
Warranty
The bag comes with a five-year limited warranty from the manufacturer. Which is great considering that it comes at an average price for carry-on luggage. This warranty does not cover normal wear and tear, misuse or neglect of the product, which is common for a luggage warranty, and neither does it cover damage by a common carrier.
Excellent stylish luggage!
It is one of the most stylish bags that I have laid my eyes on, and you will be sure to receive a lot of compliments when it is used as your travel companion. Although, you may want to disappear when the loud noise of the wheels start to annoy everyone around you. If you are looking for a bag which is stylish and do not really care about the noise made from actually using it, then it may be a good option for you to look at.
PROS
Pros
Stylish
Lots of pockets
Strong zippers
5-year warranty
CONS
Cons
Noisy to use
Telescopic handle can stick
Author Rating:
Reviewer:
Originally posted:
Reviewed Item:
Nicole Miller Taylor Collection 15" Under Seat Bag
Item Rating: