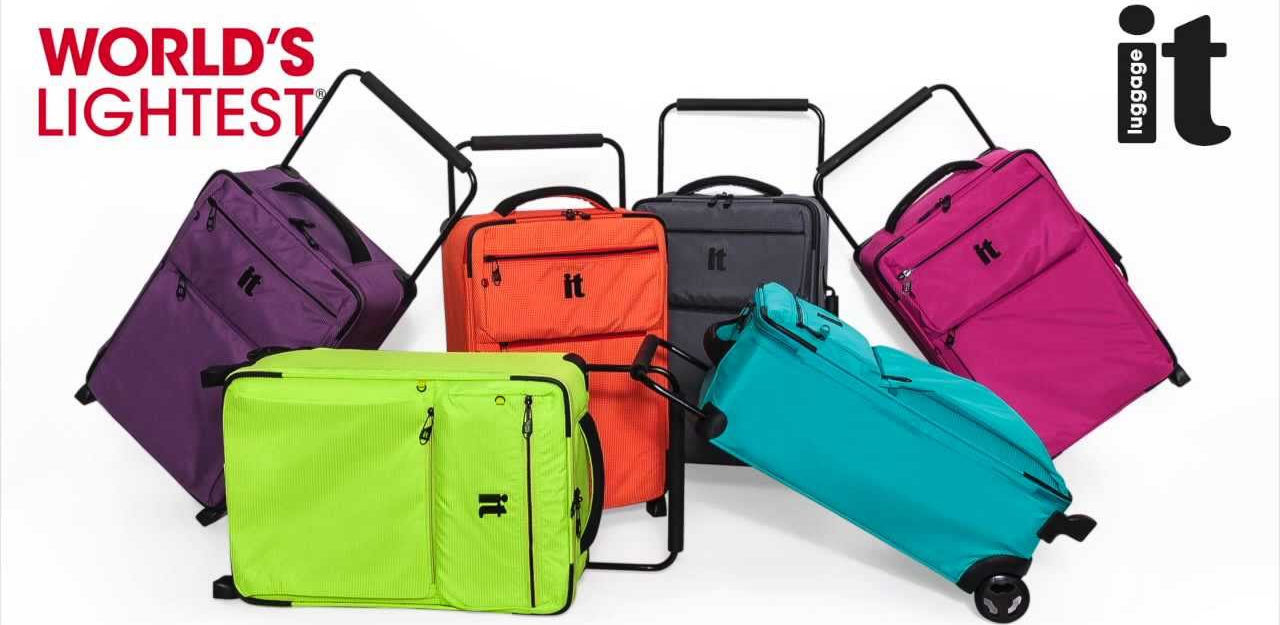 From their much acclaimed 'World's Lightest' range, comes IT Luggage's Los Angeles carry-on. As mentioned in its name, it is challenging to be the lightest carry-on in the world. By combining polyester fabric, a fiberglass handle, a lightweight special construction frame and just two single wheels at the bottom of the suitcase, they have been able to keep the weight to a minimum. This revolutionary lightweight design is available in two-tone fabric, coming in a range of stylish colors. If you are looking for a carry on which does not eat into your weight allowance then this could be ideal for you. Get the complete review of the IT Luggage Los Angeles carry-on in detail from every aspect:
Durability:
60 out of 100
Design: The IT Luggage is soft-sided, and made from polyester fabric, this allows the weight to be kept to a minimum, although it is not as sturdy and durable as hard-sided suitcases. It measures in at 21.5 x 13.5 x 9 inches, meaning that it will fit in most airlines size requirements for carry-on luggage. The suitcase features two single wheels on the bottom which, while keeping the weight to a minimum does provide limited maneuverability when traversing the airport and city streets. Rolling perfectly fine on flat surfaces, you may find yourself in a bit of a struggle when coming into contact with carpet or bumpy surfaces. Featuring a stylish two-tone fabric, reinforced at the potential wear points, it will hopefully last you a bit longer than your last soft-sided suitcase.
Storage: Providing to its user, two outside zip lined pockets, will allow easy access to any important documents or items placed in them without the need to open the bag up completely. Be careful when packing items into these pockets as the overall size could easily go over the permitted carry-on. In the interior, six mesh-lined compartments allow easy sorting of your clothing the inner side of the lid. The main storage section can be used to hold the majority of your items, with two adjustable straps keeping your contents in place when using this carry-on.
Features: This lightweight suitcase will ensure that you are able to travel with more of your own possessions and less of what some would class as wasted weight. Featuring a wide soft-grip handle made from fiberglass, it is comfortable to use. Just be aware that the handle does not lock, so can be an issue for those who rely upon it for stability or those who want to push a suitcase, as this will make the handle retract.
Weight: Coming in at a very light 3.6 lbs, the IT Luggage Los Angeles carry-on will enable you to take more of what you like with you on board. Made from a combination of lightweight polyester and fiberglass, it remains sturdy and weightless. When you first go to unwrap it, considering how light it is, you'll be surprised there's even a suitcase in the box to begin with!
Durability: Made from polyester and being a soft-sided suitcase, it does not come with the same durability attributed to hard-sided bags. The stress points have been reinforced to ensure that these common problem areas do not give in so easily, although excessive use, leading to wear and tear could become an issue.
Style: Featuring a two-tone stylish design, and available in four colors. IT Luggage has put style high up on its priorities. Available in white, blue, turquoise and navy, you will be sure to find a color that suits your style.
Size: The dimensions of this case are 21.5 x 13.5 x 9 inches, making it slightly larger than the required maximum size for some of the airlines now. Be sure not to over pack it, as it is a soft-sided luggage it will expand the more you pack in, you may end up having to check it after all.
Warranty: Coming with IT Luggage's standard 10-year warranty, they will endeavor to repair or replace any fault or defect that you find when using this suitcase. The warranty does, however, state that wear and tear is not included.
Author Rating:
Reviewer:
Originally posted:
Reviewed Item:
IT World's Lightest Suitcase
Item Rating:





Affordable, lightweight carry on bag!
The IT Luggage World's Lightest Los Angeles carry-on is a great entry for those who want a cheap, affordable, lightweight carry on bag, however, there are questions over its durability and it does not come with all the features of a higher end bag or the luxury fabric. It will do the job it is designed to do.
PROS
10-year warranty
Lightweight. Two outside zip lined pockets
Low price
Stylish
6 mesh lined pockets interior pockets
CONS
Non-locking handle
Polyester material
Only two non-spinning wheels
Can expand if overpacked