What do you want for your next business trip? A bag which reflects chic and stylish fashion sense, or something subtler and more professional with options that are even fairly casual? Depending on how you prefer to travel and conduct yourself, Kathy Van Zeeland and Olympia USA luggage are brands committed to providing affordable bags for the working class. What differs most between them is their sense of style and the innovative technologies and designs they've chosen to research in making truly one-of-a-kind traveling options.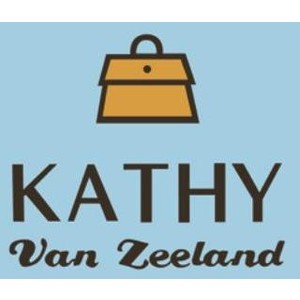 A Brief Review of Kathy Van Zeeland Luggage
Kathy Van Zeeland suitcases, or 'Kathy Bags' as many of the designer bags have been known by their fashion-forward looks, are designed to cater to the business women and fashionistas who are always on the move. Their lines typically include printed bags and unique textures along with the promise of being affordable for all customers. Browsing the Kathy Van Zeeland catalogue is like living through a fashion show and getting to take one of the pretty dresses home.
A Brief Review of Olympia Luggage
In stark contrast, Olympia luggage has more of a business professional touch for the traveling woman and fashionista who knows that simplicity in everything is best. These bags are sleek and well designed to compensate for every aspect of travel. Olympia has been designing their products for over three decades now and their tradition of providing high-quality travel ware shows through in each bag with unapparelled durability and unique functionality.
How we Organized our Research
In comparing these very unique brands we took a hard look at what was most common between them, their carry-on options, luggage sets, and underseat bag designs. These categories were analyzed to determine which bags were better based on their style-sense, durable materials, and provided packing space. Listed below are nothing but the facts to encourage you to choose the best luggage for your needs, for the price, and for long-lasting traveling style.
Best Underseat Luggage
The best underseat bags should be small enough to tuck under any chair or at your feet and thin enough to fit into the overhead compartment when under-the-seat isn't an option. These bags don't need an extremely high durability, even though thick scratch-resistant materials are nice to have. What's most important is that these personal items can fit enough of your small belongings or quick-change outfits that you're ready for anything.
Suitcase Storage
Great of weekend getaways, this fashionable wheeled bag is 15-inches and has a stylish rectangular shape which can easily fit up to two outfits or one outfit and a sweater/etcetera. Included are an interior makeup clear case insert for makeup, and two exterior zippered pockets.
Materials/Durability
Crafted from strong PVC materials this bag can withstand any travel and the bangs, bumps, and scratches which might occur along the way. It's quite water tight and should keep your things perfectly dry while walking in the rain.
Additional Features
This bag includes a long telescopic handle for easy maneuverability around a crowded airport, and it rolls on two highly durable in-line skate wheels.
Size Options
The 15" underseat option only comes at this size but is available in classy burgundy, black, and navy-blue styles.
Suitcase Storage
This elegant feminine underseat bag has sensible extra outer zippered pockets, a fully organized interior with multiple fold out pockets, and inside space for at least two different outfits. Additionally, it has an insert for a laptop up to 15", though this will limit extra space for clothing.
Materials/Durability
Olympia outdoes itself with the strong rip stop polyester materials used to give this underseat piece medium durability and a completely lightweight easy to lift and pull around feel.
Additional Features
This bag includes ball bearing recessed wheels and a single rod hideaway push button retractable handle. Side pockets include zippers and store away velcro storage.
Size Options
This underseat bag only comes in the 15" size, but includes 5 unique style choices; out favorite being the very classy and sophisticated Houndstooth print.
Best Carry-On Luggage
Choosing the perfect carry-on luggage is an essential part of travel, especially if you're one of those travelers who doesn't need a checked bag for your short time away. For soft luggage like the products reviewed below, the best carry-on's should have expandable packing room or plenty of pockets, durable materials such as cotton canvas or nylon (polyester being a close second in durability), and simple carrying or rolling options.
Suitcase Storage
This is your standard overnight or weekend bag with one deep exterior body pocket for travel papers, ipads, etecetera, and a deep main compartment for room enough to fit 3-4 days of just clothes.
Materials/Durability
This bags design features 100% polyester with a high denier rating, it's virtually scratch proof but not as protective against hard drops or rude handling. It's semi-water resistant and can easily keep things dry while walking or wheeling your bag through the rain. The handles are all durable and ergonomically designed.
Additional Features
In-line skate wheels which are screwed into the bags body (rather than riveted weakly) provide easy control while on the move.
Size Options
Designer duffel only comes in the 22-inch rolling size but is available with 13 different unique and stylish prints.
Suitcase Storage
For storage purposes this bag easily fits more clothes and personal items than the Olympia underseat bag by providing a more expandable material for further inside packing and 8 additional outside pockets. The U-shaped top opening allows for further packing and this suitcase can easily fit up to 5-days of just clothes.
Materials/Durability
This unique Olympia duffel uses 1200 denier rated polyester with Protecflon technology helping to make this material as durable as many cotton canvas bags. For minor to medium bumps and tears this bag should be able to hold up against anything.
Additional Features
For style-sense this bag isn't much to look at but is rather a simpler solution for the adventuring type and casual business traveler. What it includes as extras are self-repairing zippers and recessed in-line ball bearing skate wheels for very smooth portability over any surface.
Size Options
This duffel bag can also be bought with a drop bottom extension for a 26-inch medium size, 29-inch large, and 33-inch overlarge suitcase. Purchase is available in 20 different colors.
Best Luggage Sets
These brands both offer luggage sets, but as you'll see they include very different bags and designs in the sets that they market. For instance, the Kathy brand typically only has two suitcases for each of it's sets and includes two designer bags (carry-on options) for fashionable travel and extra lightweight packing. For this reason, we've set a 4-piece set side by side with a 3-piece set to show you that Olympia keeps with the standard 3-bag set (small, medium, large) where Kathy Van Zeeland has taken a different approach.
Suitcase Storage
With a black or red leather look that can only be described as 'sexy', the bags in this set include 2 different sizes and two carry-on/personal item totes. The luggage options include a 21-inch carry-on and 28-inch large suitcase both with zippered expansions which provide up to 2 inches of extra packing space. The insides are fully lined and the outside offers one deep instant-access pocket with classy fashionable zippers.
Materials/Durability
PVC materials are used in the design of this bag for a truly unique look and very protected belongings in a scratch-resistant thick shell. Not only are the suitcases very durable, but so are the carry-on shopper and dowel bags.
Additional Features
What is most different about this set are its inclusion of two different bags. These are both very stylish and offer you more room depending on whether you're packing them as your personal item or as a weekend carry-on with all your clothes.
Size Options
The shopper bag is 17 inches and includes a side strap for easy carrying, suitcases include a carry-on and full size, and the dowel bag is 16 inches with strong integrated tote handles.
Suitcase Storage
Luggage included in this set: a 15-inch carry-on suitcase, 17-inch medium, and 20-inch large. Immediately what you'll notice is that each of these could be used as a carry-on item rather than checked, and that is the genius of this Olympia design even though it does somewhat limit your packing. Together these suitcases allow around 2-3 weeks of packed clothes for an extended stay of travel.
Materials/Durability
These bags are constructed from polyester with a 1200 denier rating; you can expect them to protect your belongings against minor abrasions and drops, however these suitcases are more likely to rip if mishandled. Very water resistant with an extra inner lining. The lightweight aluminum telescopic handle and 4 wheels are extremely durable.
Additional Features
The interior of this suitcase includes two tie-down straps and small mesh zippered pockets for some added organization.
Size Options
Again, this is not your standard set which includes a carry-on item only and then all large bags which you have to check, instead what you get is a three-bag set where each bag can be used as your carry-on while the other two are checked.
Kathy Van Zeeland vs Olympia Luggage – Which is the best pick?
For the ideal carry-on that can carry plenty without weighing too much we suggest going with an Olympia brand bag, however these bags aren't nearly as eye catching or stylish as any you might purchase from Kathy Van Zeeland. Where sets are concerned both of these brands have approached set designing with intuitive designs, extras, and sizes; however, if you're looking for a full traditional set including carry-on, medium, and large bags these may not be the brands for you. Finally, when looking at sets and underseat luggage side by side it is clear that Kathy Van Zeeland offers a better unique style with equally durable materials and that might just be enough to sway your opinion.
Summary
Many of the best bags for stylish traveling and the packing needs of the business class are designed by Kathy Van Zeeland and Olympia Luggage with the similar goal of making fashion-forward affordable luggage. However, knowing which specific brand to choose can be tricky when both of these companies design their products using innovative methods and the freshest ideas to get the job done.