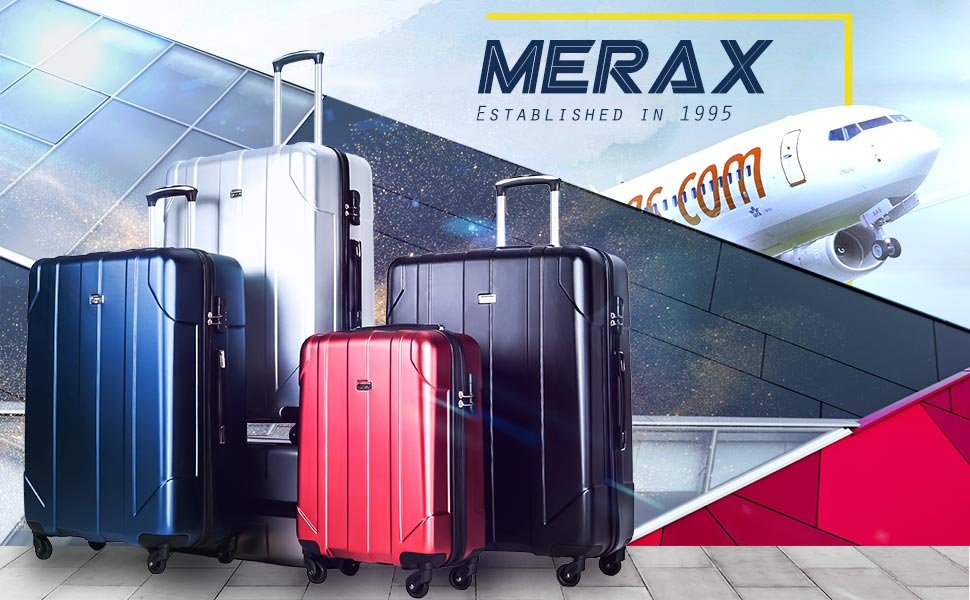 The Merax Newest 5 Piece Luggage set is a lightweight and tear resistant, soft-sided suitcase. Not many suitcases sets nowadays come with 5 pieces, 3 is the norm, with 5 pieces you have a matching bag to suit any type of travel that you desire. If you need any more room, the expandable luggage will allow you to take 25% more. The many zip lined pockets on the exterior allow you to keep your travel documents and any go-to travel items on hand at all times. The upright suitcases have inline wheels, and a telescopic push button handles, allowing you to wheel them around to save carrying heavy loads. Get the complete review of the Merax Newest 5 piece luggage set in detail from every aspect:
Design: The Merax Newest set has been designed with weight and durability in mind. Made from lightweight durable polyester, it is claimed to be tear resistant, I will let you figure out whether you would like to test that! Each of the five bags includes exterior pockets, allowing you to pack your magazines and any items that you require easy access to while traveling. The inline wheels are the older style of wheels, they are not as user-friendly as the spinner wheels. You will need to carry some of the weight in your arm when pulling this bag, making it harder to use especially if you have trouble walking. In this travel set you will receive the following suitcase sizes: 15-inch travel bag, 18-inch flight bag, and 21 inch, 25 inch, 29 inch upright suitcases.
Features: The upright suitcases all come with an expander, allowing you an extra 25% storage capacity, this is great when you need that extra space on your travels and bought all those extra items you really didn't need. Each comes with inline wheels and a telescopic handle, allowing you to pull the suitcase around when in use. The bags are made of 100% polyester, meaning it is lightweight and durable. Carry handles on the top and side allow easy carrying and lifting in and out of the car trunk, up and down stairs, or into closets.
Storage: The two smaller bags, the 15-inch travel bag, and the 18-inch flight bag have been designed for you to take as cabin luggage and with you on board. They are not your modern ultra-lightweight carry-ons, not designed to be your only baggage on the trip. They will not carry a lot of your belongings, however, they do have multiple pockets allowing you to organize all your travel documents and cabin items. The three upright suitcases each come with two exterior pockets, giving you easy access to items here, without the need to open up your full suitcase. Inside the suitcases, you will find a zip-lined mesh pocket, where you will be able to store your loose items. On the other side is the main compartment, here you will find an x-strap which helps keep your clothes in place and tidy while the suitcase is in use.
Weight: The travel bag weighs in at 1.1 lbs, which is very light, however, you cannot fit many things into it. The flight bag weighs in at 1.6 lbs, allowing you to pack this bag as much as you can and still be comfortably under the weight limit for cabin baggage. The 21-inch upright suitcase weighs in at 5.9 lbs, the 25 inch at 7.0 lbs, and the 29 inch at 8.6 lbs. These suitcases are lightweight, especially compared to similar hard-sided suitcases, allowing you to expand the suitcase and pack more stuff!
Durability: The suitcases are made from a lightweight polyester which claims to be torn resistant, I would not suggest you to try to find out, as you may be left with luggage which has no use at all. It has been noted that the construction is not of the best, especially when it comes to being at full capacity. Previous buyers have complained about handles falling off and zippers breaking, so it may be best to test these out before you take your trip, so you are spared the embarrassment of seeing your clothes all over the runway.
Style: The bags are rather stylish for soft-sided luggage, featuring a black trim which keeps it looking stylish. The set is available in red, grey, blue, and black. Depending on your personal style, you can opt for the black with red detail, which seems most subtle, or you can be more outgoing and go for the red with grey detail which may be easier to spot when in a rush at the airport.
Size: The travel bag measures in at 15 x 11 x 5 inches, which is fairly small, you will not be able to pack much in at all. The flight bag measures in at 18 x 11 x 10 inches, which is also relatively small compared to other cabin bags out there, if you want to travel with just cabin baggage then you may want to opt for a carry-on with a larger capacity. The smaller upright measures in at 21 x 14 x 10 inches, the medium at 25 x 16 x 11 inches, and the largest one at 29 x 18 x 12 inches. Considering the weight of these suitcases, you do get a lot of suitcase for your buck.
Warranty: It does not seem like the Merax comes with any warranty at all, you may only be able to return your item to the point of purchase if it is within the return period. That being said, most customers seem satisfied with the purchase and at this price, for 5 bags you cannot expect it to last too long.
Quantity Wins!
If you are looking at getting quantity over quality, then this set may be right for you. With no warranty and a limited return period, you may struggle to get your value from it. If you want 5 bags that will do their job for a few trips and not to last, then it may work out for you.
PROS
5 bags
Available in 4 colors
Lightweight
Tear resistant fabric
CONS
No warranty
2 small bags have little use
Inline wheels, not spinner
Author Rating:
Reviewer:
Originally posted:
Reviewed Item:
Merax Newest 5 Piece Luggage 2018
Item Rating: